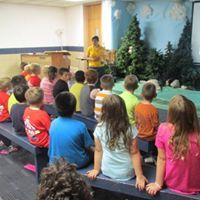 For those 55+, we have plenty of opportunities within the church. We have themed fellowships throughout the year.  During this time, there is food, games, crafts, and fellowship with one another. 
It is our desire, as a church, to take both juniors and teens for a time of spiritual renewal through unplugging from the world. This affords them the opportunity to grow as individuals. 
Each summer we offer a Vaction Bible School where the whole community can send their kids for a fun time of games, snacks, crafts, and learning from the Bible on their level.